Nutrition Powder Plant
Integrating Multiple Control Systems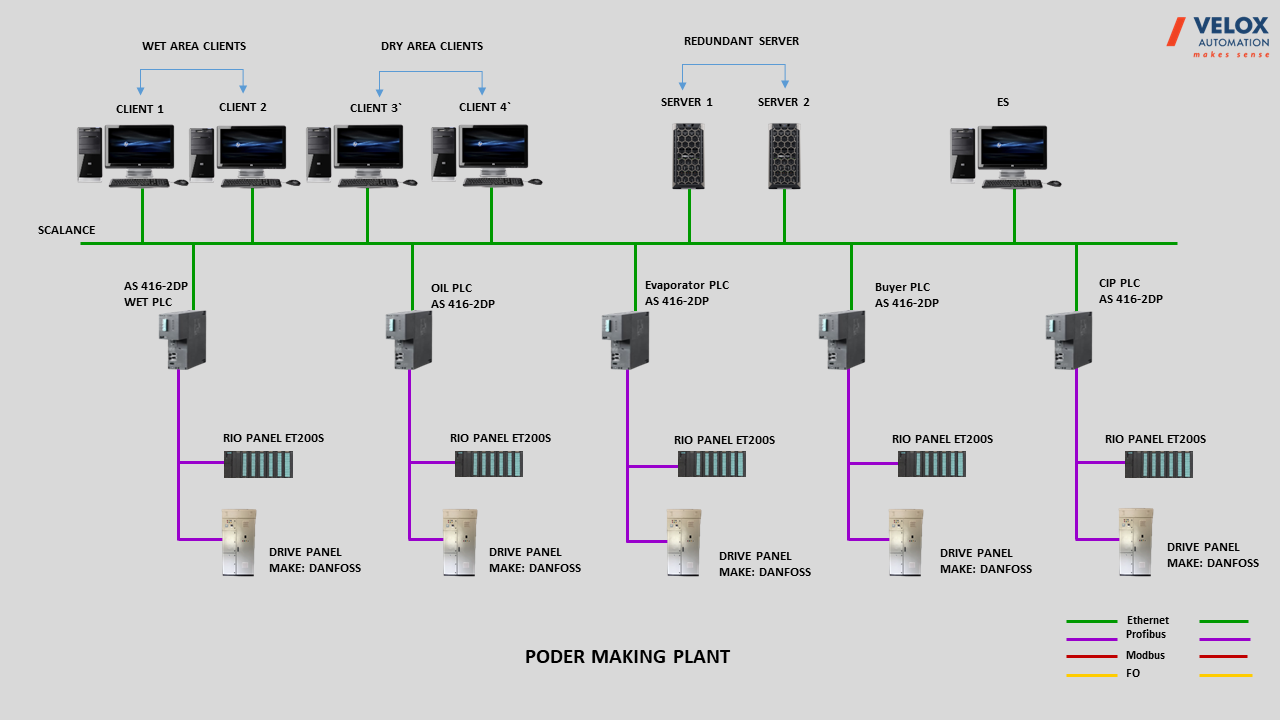 One of the most exciting industry sector for an automation company is Pharmaceuticals.
The automation requirement is of the highest level and versatile.
It gives an opportunity to explore all aspects of an Operator system like recipe management, historical trends, batch management, user login, audit trail, etc.
Velox automation has been working extensively in the field of Pharmaceuticals through many OEM projects as well as end-users.
Siemens DCS system is one of the most respected and utilized systems by Pharma industries. This is a big advantage for the customer as well as Velox.
Velox Automation with its vast experience provided a complete solution from automating the process to compliance of FDA to uplinking process data with global setups.
Quick View
System Overview
There were total 06 different PCS7 controllers used for WET, OIL, DRY, EVAP & CIP system.
A separate PCS7 controller was used for DRY POWDER handling system
The I/Os were used in the distributed format in various parts of the plant connected to the respective area controller over Profibus.
A pair of Redundant server were formed based on PCS7 OS server with 04 operator clients for WET process operation.
There was a common separate PC for the recipe management of the overall plant.
Project Highlights
The project comprises of DCS system of Complete Powder making plant with WET & DRY system.
Powder blending and packaging system were also part of the project.
Batch control and recipe management was the most important requirement of the Project.
US FDA approved 21CFRpart 11 system was to be implemented.
The complete process data was to be archived and synchronized with the global remote server.
Customer Benefits
The complete system was developed and commissioned locally.
The standards of programming were in line with the global standards of the customer.
The US FDA compliance was achieved and fully automated.
The data management with global servers was established.
The Indian plant was linked with global set up of the customer wherein access to the best batch data was made available.